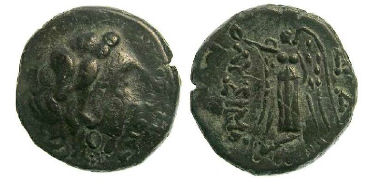 Lysimacheia in Thrace. 309 to 281 BC or later.
AE 18. Over struck on an earlier coin.

Denomination: 18 mm bronze
Size: 17.4 x 18.0 mm. Weight: 4.53 grams
Reference: SNG Cop. 194 variety.
Grade: gVF with a dark brown slightly glossy patination.
Obverse: Head of Heracles wearing the lion's skin. The mouth and chin did not strike, but in that area one can see evidence of the coin on which this coin was struck.
Reverse: Nike standing left holding a wreath, with LUSIMA to the left. On the right there are a couple of Greek letter monograms but they are in part off the flan.
SOLD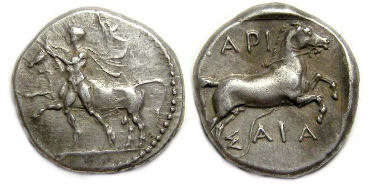 Larissa in Thessaly. ca 440 to 400 BC.
Silver drachm.


Denomination: Silver drachm.
Date: ca. 440 to 400 BC.
Size: 18.0 x 19.3 grams. Weight: 6.17 grams.
Reference: Sear-2111. SNG COP 110.
Grade: gVF excepts that the bull's head is not fully struck.
Obverse: Youth left, with a chlamys billowing behind, holding the horns of a bull charging left.
Reverse: Horse running right, with the name of the city in two lines as LARI above and SAIA below.

SOLD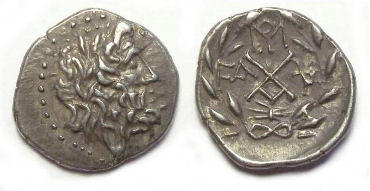 Elis as part of the Achaean League. Silver hemidrachm. early to mid 2st century BC.


Denomination: Silver hemidrachm.
Mint: Elis.
Date: ca. 196 to 146 BC.
Size: 15.4 x 16.9 mm. Weight: 2.43 grams.
Reference: Clerk 255 v, BCD 682 (this coin).
Grade: aXF, full strike, nicely toned.
Obverse: Laurate head of Zeus right.
Reverse: AX monogram with thunderbolt below, FA to the left, MO monogram above, and YT monogram to the right, all within a wreath.
SOLD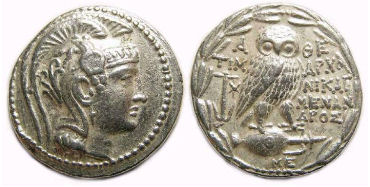 Athens, ca. 136 to 136 BC. Silver new style tetradrachm.

Denomination: Silver tetradrachm.
Date: ca. 136 to 135 BC.
Size: 28.5 x 30.3 mm. Weight: 16.83 grams.
Reference: Sear-2555 variety.
Grade: gVF, fairly white with good metal, and could use a little more toning (which time will take care of). A little nicer than the image suggests.
Obverse: Head of Athena right.
Reverse: Owl standing right, with head forward, on an amphora, with an anchor and star to the left, with AQE TIM ARCO NIKAG MENAN DROS in five lines mostly to the right, with Q on the amphora, and ME below.
SOLD