Fake Silver Di-Drachm of Chios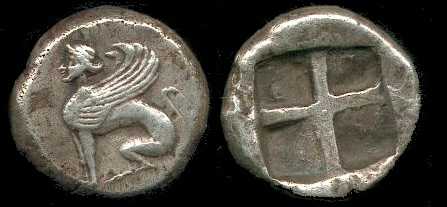 This is a modern fake of a silver di-drachm of a type originally issued from Chios in Asia minor in the mid 5th century BC. Reference Sear (Greek) #4594. The images of this coin were provided to us, and present here, with permission of Heather Howard.

WEIGHT:
6.12 grams

STYLE:
Fair to good

MANUFACTURE:
Probably lost wax casting of silver

FIRST IMPRESSION:
Good



CHARACTERISTICS: A full discussion of the characteristics of this fake can be seen on the copy of the David Sear certificate for the coin which can be seen via this link. An image of the edge bumps discussed by Mr. Sear is below.




RELATIVE DANGER
DEALER
moderate if working quickly, low if being careful

COLLECTOR
EXPERIENCED
moderate to high
NOVICE
High


The style is only fair to good, but most dealers will not have a great deal of experience with this particular issue, so it may pass at a casual examination. As discussed by Mr. Sear, the weight of 6.12 grams is considerably below the 7.8 gram standard, which should immediately tell any experienced dealer the coin is a modern fake. The danger is very high to most novice collectors who probably will not have any experience with the style, and even if they have scales may not know the correct weight standard for the issue.


Back to examples of fakes.

Top of Page