Canada Provincial Flower and Coats of Arms.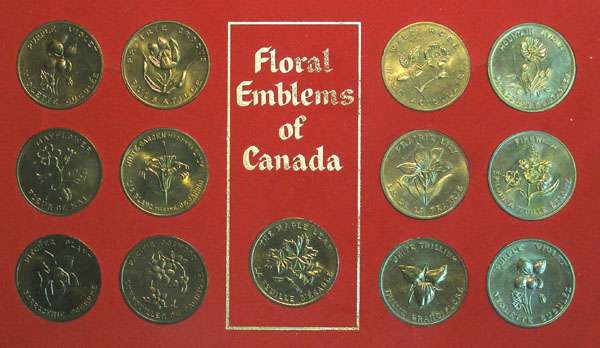 Enlargement
About 1965 or 1966 the Shell oil company produced a set of medallions commemorating the Provincial flowers, and Provincial arms of the Canadian provinces, territories, and one for Canada as a whole. These have the Provincial flowers on one side and the provincial arms on the other. They were given away as promotions with gasoline purchases (one per purchase) until at least 1968, giving people reasonable time to collect the entire set. They were also available at least as late as 1973 via the Eatons 1973 Christmas catalogue (page 38, item #11).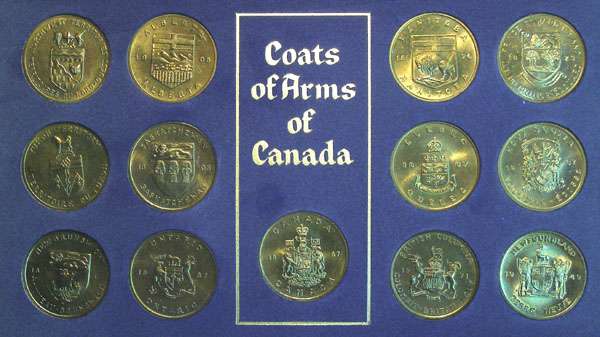 Enlargement
Special holders were made for storing them. At the time of issue shell gave out simple cardboard holders with holes for each medallion and which say "from participating shell dealers" across the bottom. There is also a more complex holder composed of a velvet covered card into which the medals were pressed and which was sandwiched between two pieces of clear plexiglass, then set into a a wooden base with a gold colored metal top. My image was taken of the main part of the case, without the base and top. I do not know when this type of holder was introduced, but this is the holder still being sold with a full set of the medallions by Eatons in 1973.
The medals are each 31.6 mm in diameter, weight about 12.1 grams (they vary slightly), and are struck in a grey base metal with a thin gold colored coating. On many examples seen today the coating has oxidized off and only the grey base metal remains.
Each medallion has on one side the coat of arms of one of the Provinces with then name of that Province in English at the top, and in French below, and the date that province joined Canada to the sides of the crest (except for the NWT and Yukon that are not provinces). On the other side is the Provincial flower with the name of the flower in English at the top, and in French below. What has caused a great deal of confusion over the years, is that the only date on these is the date the Province joined confederation, with nothing to indicate their true date of manufacture in or just after 1965. I get e-mails about these several times a week, which is why I am building this site about them (easier to send a link to the page, than write a long explanation each time.
The set is composed to the following thirteen medallions :

CANADA - 1867 - MAPLE LEAF

ONTARIO - 1867 - WHITE TRILLIUM

QUEBEC - 1867 - WHITE GARDEN MADONNA LILY

NOVA SCOTIA - 1867 - MAYFLOWER

NEW BRUNSWICK - 1867 - PURPLE VIOLET

MANITOBA - 1870 - PRAIRIE CROCUS

BRITISH COLUMBIA - 1871 - PACIFIC DOGWOOD

PRINCE EDWARD ISLAND - 1873 - LADY SLIPPER

NEWFOUNDLAND - 1949 - PITCHER PLANT

ALBERTA - 1905 - WILD ROSE

SASKATCHEWAN - 1905 -PRAIRIE LILY

NORTHWEST TERRITORY - MOUNTAIN AVENS

YUKON TERRITORY - FIREWEED


Every e-mail I get about these asks "what is my medallion worth". The answer is pretty simple in that they are so common there is no significant interest in them, and no significant collector value. If you came into my store I put them in a 10 cent pick bin from which they come and go fairly regularly. I do not sell them by mail, as they are heavy and the postage to mail them would cost more than they are worth. I am not interested in buying more of them, although if they come in as part of a bigger collection I allow a few cents each for them.
Even on these one occasionally see's mint errors. As I was working on this page, I discovered that the Prince Edward Island medal in the set I photographed has a New Brunswick purple violet on the back. I have checked many other PEI medals which all had the correct Lady Slipper reverse, so I don't think this is a common error. Errors of this nature, which miss-matched dies, are called "mule errors".
LINK TO OUR MAIN WEBSITE